TP-LINK AV500 500 Mbit/s Ethernet LAN White 2 pc(s)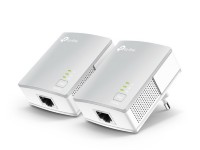 | | |
| --- | --- |
| Manufacturer: | TP-LINK |
| Category: | Networking |
| Sub-Category: | PowerLine Network Adapters |
| SKU: | TL-PA4010 KIT |
| EAN: | 6935364096076 6935364032005 6935364031985 5055309619519 8592978182281 0682851729288 0362617591471 0803982784278 5053973005133 0731215283123 0872182750895 0151903616260 0635670004067 4055895377054 0898029650258 0781491505068 0163120658237 0163121497187 8852274108720 0851905139292 5054480609517 0617407586961 0845973032029 0734911111714 0862818854776 0115971118910 6790840947507 0163120653829 0731041026062 5053086257290 0782941899317 7123290477437 0735163027877 0132018290194 5054533691537 5055851275379 5055309618826 8459730320292 0734911352599 |
Description
Ideal for HD Streaming
Using advanced Home Plug AV technology, TL-PA4010 KIT provides users with stable, high-speed data transfer rates over a household electric circuit for up to 300 meters. The TL-PA4010 KIT enables heavy-bandwidth applications like HD streaming, on-line gaming and large file downloading, turning your home into a robust and high-speed networking
Miniature Design
With its new ultra-compact housing design, TL-PA4010 KIT is much smaller than TP-Link's legacy mini powerline products. At just 28.5mm thick, it nearly blends completely in front of any power outlet.
Pair Button for Easy Network Security
Simply by pushing the Pair button on the adapters, users can set up a hassle-free Powerline network within minutes, complete with 128-bit AES encryption for network security and data protection.
It's that simple!
1. Plug the adapter into the power outlet
2. Connect the device via the network cable to the adapter
3. Press the pair buttons—and you're done!
– HomePlug AV standard compliant, providing data transmission over electrical wires for HD video streaming
– Miniature design, smaller than most powerline adapters at the market, blends discreetly in front of any power outlet
– No new wires, Easy Plug and Play operation, No configuration required
– Patented Power-Saving Mode automatically reduces power consumption by up to 85%
Specifications
Performance
Ethernet LAN interface type
Fast Ethernet
Ethernet LAN
Yes
Ethernet LAN data rates
10,100 Mbit/s
Ethernet LAN (RJ-45) ports
1
Wi-Fi
No
Maximum data transfer rate
500 Mbit/s
Networking standards
IEEE 802.3,IEEE 802.3u
Built-in power socket
Yes
PowerLine standard
HomePlug AV
Modulation
OFDM
Security algorithms
128-bit AES
Maximum operating distance
300 m
Technical details
Ethernet LAN interface type
Fast Ethernet
Ethernet LAN
Yes
Ethernet LAN data rates
10,100 Mbit/s
Ethernet LAN (RJ-45) ports
1
Wi-Fi
No
Maximum data transfer rate
500 Mbit/s
Networking standards
IEEE 802.3,IEEE 802.3u
Built-in power socket
Yes
PowerLine standard
HomePlug AV
Modulation
OFDM
Security algorithms
128-bit AES
Maximum operating distance
300 m
LED indicators
Yes
Product colour
White
RoHS compliance
Yes
Certification
CE, FCC
Power
Power consumption (typical)
4.26 W
Power consumption (standby)
0.88 W
AC input voltage
220 V
AC input frequency
50 Hz
Design
LED indicators
Yes
Product colour
White
RoHS compliance
Yes
Certification
CE, FCC
System requirements
Mac compatibility
Yes
Windows operating systems supported
Windows 2000,Windows 2000 Professional,Windows 7 Enterprise,Windows 7 Enterprise x64,Windows 7 Home Basic,Windows 7 Home Basic x64,Windows 7 Home Premium,Windows 7 Home Premium x64,Windows 7 Professional,Windows 7 Professional x64,Windows 7 Starter,Windows 7 Starter x64,Windows 7 Ultimate,Windows 7 Ultimate x64,Windows 8,Windows 8 Enterprise,Windows 8 Enterprise x64,Windows 8 Pro,Windows 8 x64,Windows Vista Business,Windows Vista Business x64,Windows Vista Enterprise,Windows Vista Enterprise x64,Windows Vista Home Basic,Windows Vista Home Basic x64,Windows Vista Home Premium,Windows Vista Home Premium x64,Windows Vista Ultimate,Windows Vista Ultimate x64,Windows XP Home,Windows XP Home x64,Windows XP Professional,Windows XP Professional x64
Linux operating systems supported
Yes
Mac operating systems supported
Yes
Operational conditions
Operating temperature (T-T)
0 – 40 °C
Storage temperature (T-T)
-40 – 70 °C
Operating relative humidity (H-H)
10 – 90%
Storage relative humidity (H-H)
5 – 90%
Weight & dimensions
Width
65 mm
Depth
52 mm
Height
28.5 mm
Packaging content
Manual
Yes
Quantity per pack
2 pc(s)
Quick installation guide
Yes
Cables included
LAN (RJ-45)