Tenda TX3 wireless router Gigabit Ethernet Dual-band (2.4 GHz / 5 GHz) 4G White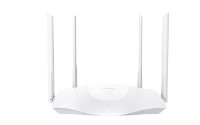 | | |
| --- | --- |
| Manufacturer: | Tenda |
| Category: | Networking |
| Sub-Category: | Wireless Routers |
| SKU: | TX3 |
| EAN: | 6932849426328 0885397273240 |
Description
Wi-Fi 6 for Ultra-Fast Transmission Speed
TX3 adopts MU-MIMO + OFDMA to significantly improve network performance and efficiency, enabling it to support more client devices at the same time, wipe out latency, enhance multiplayer online games, and enjoy 4K videos more smoothly.
Built-in Signal Enhancement Module
It adopts 5GHz dedicated powerful WLAN full-featured front-end module, equipped with integrated signal amplifier. The concentrated signal makes sure stronger and more stable Multi-story home Wi-Fi coverage. You can enjoy best signal in any corners.
1.5GHz Quad Core Processor
Provides Faster and More Stable Wi-Fi
With the 1.5GHz high-performance quad core processor,the network load capacity is comprehensively improved.Instant fast response making the operation more stable.
BSS Coloring Reduces Interference and Improves Efficiency
Supporting BSS coloring technology,TX3 effectively alleviates co-frequency interference, improves spectrum utilization and communication efficiency.
TWT Extends Battery Life of Connected Devices
TWT (Target Wake-up Time technology) can effectively reduce the power consumption of terminal equipment and greatly extend its battery life.
Enjoy Safer Surfing with The Next-Gen Security Protocol WPA3
The TX3 carries a new generation of WiFi security standard WPA3, which increases the difficulty of algorithmic and network password cracking, can prevent forced- attacks,violent cracking, and protect user privacy in open Wi-Fi networks.
Remote Control Through The Tenda APP
Wi-Fi status can be controlled remotely through the Tenda APP, even while travelling, which facilitates the real-time monitoring of routers.
Live The Present Greet The Future
The TX3 is designed to be compatible with Smartphones & devices that support Wi-Fi 6 standard in use. Enjoy the latest generation Wi-Fi standard with the TX3 from Tenda.
Specifications
Ethernet LAN features
Ethernet WAN
Yes
Ethernet LAN interface type
Gigabit Ethernet
Ethernet LAN
Yes
Ethernet LAN data rates
10,100,1000 Mbit/s
Cabling technology
10/100/1000Base-T(X)
DSL features
DSL WAN
No
Mobile network
SIM card slot
No
3G/4G USB modem compatibility
No
Mobile network generation
4G
Network
Guest access
Yes
Ethernet LAN interface type
Gigabit Ethernet
Ethernet LAN
Yes
Port forwarding
Yes
Networking standards
IEEE 802.3,IEEE 802.3ab,IEEE 802.3u
Ethernet LAN data rates
10,100,1000 Mbit/s
Cabling technology
10/100/1000Base-T(X)
Static route
Yes
Dynamic DNS (DDNS)
Yes
Protocols
DMZ support
Yes
Universal Plug and Play (UPnP)
Yes
DHCP server
Yes
DHCP client
Yes
Management features
Universal Plug and Play (UPnP)
Yes
WPS push button
Yes
Web-based management
Yes
Reset button
Yes
Bandwidth control
Yes
Web-based setup wizard
Yes
MU-MIMO technology
Yes
Performance
Processor frequency
1500 MHz
Processor cores
4
Plug and Play
Yes
Built-in processor
Yes
Memory card slot(s)
No
Web-based setup wizard
Yes
Certificates
Certification
CE/FCC/RoHS
Packaging content
Package type
Box
Cables included
LAN (RJ-45)
AC adapter included
Yes
Quick installation guide
Yes
WAN connection
Ethernet WAN
Yes
DSL WAN
No
SIM card slot
No
3G/4G USB modem compatibility
No
WAN connection type
RJ-45
Wireless LAN features
Top Wi-Fi standard
Wi-Fi 6 (802.11ax)
WLAN data transfer rate (max)
1775 Mbit/s
Wi-Fi band
Dual-band (2.4 GHz / 5 GHz)
WLAN data transfer rate (first band)
574 Mbit/s
WLAN data transfer rate (second band)
1201 Mbit/s
Wi-Fi standards
802.11a,802.11b,802.11g,Wi-Fi 4 (802.11n),Wi-Fi 5 (802.11ac),Wi-Fi 6 (802.11ax)
Ports & interfaces
USB port
No
Ethernet LAN (RJ-45) ports
4
DC-in jack
Yes
Memory card slot(s)
No
Security
URL filtering
Yes
Security algorithms
WPA,WPA-PSK,WPA2,WPA2-PSK,WPA3
IP address filtering
Yes
Guest access
Yes
DoS attack prevention
Yes
DMZ support
Yes
Filtering
Yes
Parental control
Yes
Access Control List (ACL)
Yes
Design
Product type
Tabletop router
LED indicators
System
Housing material
Plastic
Product colour
White
Antenna
Antennas quantity
4
Antenna type
External
Antenna gain level (max)
6 dBi
Transmit power
20 – 23 dBmW
Features
Processor frequency
1500 MHz
Processor cores
4
Plug and Play
Yes
Certification
CE/FCC/RoHS
Built-in processor
Yes
Power
Power source type
AC
Output voltage
12 V
Output current
1 A
AC input voltage
100 – 240 V
AC input frequency
50/60 Hz
Operational conditions
Storage temperature (T-T)
-40 – 70 °C
Storage relative humidity (H-H)
5 – 90%
Operating temperature (T-T)
0 – 40 °C
Operating relative humidity (H-H)
10 – 90%
Weight & dimensions
Width
237.6 mm
Height
45 mm
Depth
153.1 mm
Packaging data
Package type
Box
Cables included
LAN (RJ-45)
AC adapter included
Yes
Quick installation guide
Yes
Technical details
Sustainability certificates
CE, RoHS
---