Hewlett Packard Enterprise SN1200E Fiber 16000 Mbit/s Internal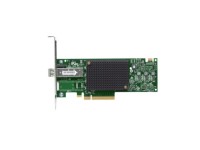 | | |
| --- | --- |
| Manufacturer: | Hewlett Packard Enterprise |
| Category: | Computer Components |
| Sub-Category: | Networking Cards |
| SKU: | Q0L13A |
| EAN: | 0190017103747 4549821045167 |
Description
Is your data center poised to take the 16 Gb step in Fibre Channel (FC) connectivity? The growth in enterprise flash storage and the deployment of servers with multi-core processors is driving the need for high performance storage networking to prevent application performance bottlenecks. The FC Host Bus Adapter (HBA) is a critical element of this storage network to improve storage performance. The HPE StoreFabric SN1200E 16Gb Fibre Channel Host Bus Adapters deliver the high bandwidth, low latency and high IOPs to meet any application requirements, from online transaction processing or data warehousing to backup/restore and OpenStack Cinder block storage. Supporting higher virtual machine density on powerful host servers, the SN1200E 16Gb HBAs delivers increased ROI on enabling more applications and virtual machines to run on a single server and I/O port without impacting SLAs. The 16 Gb FC HBA is backward compatible with 8 and 4 Gb FC storage networks to protect legacy investments.
The High Performance Fibre Channel Host Bus Adapters
The HPE StoreFabric SN1200E 16Gb Fibre Channel Host Bus Adapters deliver twice the I/O performance of 8Gb Fibre Channel (FC) Host Bus Adapters (HBAs) while being backward compatible with 8 and 4Gb FC environment.
Moving to 16 Gb technology provides the infrastructure required for the more powerful servers and data intensive applications of the future.
When using storage intensive applications like backup/restore, database transactions, virtualization and rich media, the improved I/O performance enables faster storage and retrieval of data.
Faster Flash
The HPE StoreFabric SN1200E 16Gb Host Bus Adapters accelerate the time to business insight by completing data warehousing queries faster than 8 Gb FC HBAs.
Meets the massive bandwidth requirements of flash storage arrays.
Increases the performance of flash-based storage by prioritizing mission critical traffic in congested networks with exclusive ExpressLane feature.
Better Virtualization
The HPE StoreFabric SN1200E 16Gb Host Bus Adapters provides near limitless scalability to support increased virtual machine (VM) density with 2x more on-chip resources and bandwidth than previous offerings.
Improves the virtual desktop infrastructure (VDI) end-user experience with low latency features providing noticeable improvements during boot storms (degradation of service that occurs when a significant number of end-users boot up within a very narrow time frame and overwhelm the network).
Simplifies management and installation with OneCommand Manager plugin for VMware® vCenter® server.
Specifications
Ports & interfaces
Internal
Yes
Fiber ports quantity
1
Interface
Fiber
Host interface
PCI Express
Connectivity technology
Wired
Bandwidth
Maximum data transfer rate
16000 Mbit/s
Networking
Maximum data transfer rate
16000 Mbit/s
Design
Internal
Yes
Weight & dimensions
Width
21.5 mm
Depth
185.7 mm
Height
120.7 mm
Weight
127.85 g
Packaging data
Quantity
1
Packaging content
Quantity
1