Dynamode USB3-HB-4PM interface hub USB 3.0 (3.1 Gen 1) Type-A 5000 Mbit/s White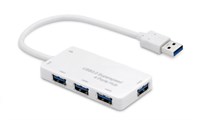 | | |
| --- | --- |
| Manufacturer: | Dynamode |
| Category: | Computer Components |
| Sub-Category: | Interface Hubs |
| SKU: | USB3-HB-4PM |
| EAN: | 8400800027542 |
Description
Stylish and compact, the superspeed 4-port hub quickly and easily connects your existing USB3.0 storage devices cameras and other digital devices so you can all share your USB3.0 port – in an instant!
Ideal for connecting both SuperSpeed USB3.0 (5Gbps) and your existing USB2.0 (480Mbps) devices into one, convenient Hub. Ideal for when your Windows, Mac or any other device has only a limited number of SuperSpeed USB3.0 ports.
Connect with ease almost any USB device such as external storage devices, memory card readers, cameras, printers, scanners and a whole host of input devices with total simplicity.
Fully Plug n' Play for all popular operating systems such as Windows, Mac, Linux and more besides.
Specifications
Ports & interfaces
Host interface
USB 3.0 (3.1 Gen 1) Type-A
USB 3.2 Gen 1 (3.1 Gen 1) Type-A ports quantity
4
Hub interfaces
USB 3.0 (3.1 Gen 1) Type-A
Ports quantity
4
Features
Surge protection
Yes
Plug and Play
Yes
LED indicators
Yes
Product colour
White
Data transfer rate
5000 Mbit/s
Host interface
USB 3.0 (3.1 Gen 1) Type-A
Data transmission
Data transfer rate
5000 Mbit/s
Technical details
Plug and Play
Yes
Product colour
White
Performance
Surge protection
Yes
Plug and Play
Yes
Data transfer rate
5000 Mbit/s
Design
LED indicators
Yes
Product colour
White
Indication
LED indicators
Yes